Selective mutism: the child who said Hello
Dearest, P. is a very sweet child who struggles to adapt to new situations, but who knows how to give affection to those who infuse security. It was definitely his way of saying Thank you!
Ping is a dark haired child with a face reminiscent of a full moon; he attends the third grade in the province of Turin and for three years, at school, he hasn't said a word. Nothing. Not even a syllable. This information, obtained from the teachers a few minutes before entering the classroom does not frighten me: after all, in our course  "Viaggio nella Grammatica fantastica"  (Journey into Fantastic Grammar) , within the Diderot project of CRT Foundation, words are important only up to a certain point, since you can participate fully in all activities in an imaginative, artistic and theatrical way, without the need to use your voice.
We start with a theatrical warm-up where the children move in space as princes and princesses: slowly, then quickly and finally in slow motion. Then the princes and dames who desire to,  become knights, skilled at horseback riding. They can walk, trot, gallop and also duel with each other by handling invisible swords, with the same skill that we often see in action in the art of foil. At the end of the warm-up it is always nice to observe the bright red color that flares on the faces of the children from the heat spreading through the body.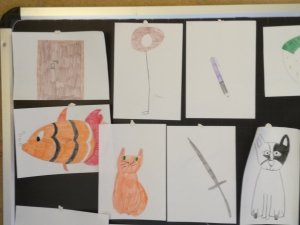 Often their breathing is labored, suggesting how little they are used to moving, running, galloping on the wings of fantasy.
The central activity of the workshop consists in the presentation of a series of riddles, as many as the number of children in the classroom, which allows to identify some CONCRETE NOUNS (of animals or objects) that the pupils will then draw, as large as they can , on sheets of paper. This will lead them to discover  COMPOUND NOUNS.
There are riddles with facilitating rhymes:   "it purrs and sleeps on a mat, it's just the…!" (cat); "I will keep it secret and not tell my wish, I will be mute like a …!" (fish),   and there are riddles without facilitations, for example: "what rhymes with hen? Did you get it? Yes, it's the…"(pen).
How will Ping guess the object or animal without using his voice? Maybe by mimicking it, in the case of the animal, or extracting it from his backpack as far as the object is concerned? And that's exactly what he does: by pulling out a double-decker pencil case that he opens, to show a pen to the class! I observe him: his posture now seems much more relaxed.
When all the concrete nouns have been represented, I ask Adam who drew the DOOR to bring the drawing to me,  then I invite all the others to check if the object they have drawn can be matched with "door".
Elisa comes forward, holding the drawing of a KEY and the first reaction of the class, seeing her next to the DOOR, is of a strict logic: – Certainly! Sure! To open the door you need the key….,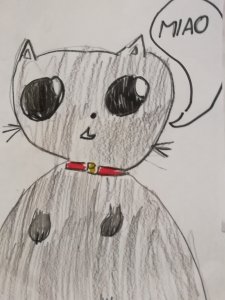 but then Sofia goes further and "reads" each image distinctly: KEY HOLDER, then says them again, eliminating the space between the two: KEYHOLDER!
A look of surprise flashes across the eyes of Ping too, a flash that becomes intuition and therefore understanding. He stands up and puts the bell he drew next to the door:- DOORBELL! His companions shout in unison. At the end, when the class is about to leave the classroom, Ping approaches me and clearly pronounces two syllables: CIA-O.
What happened?
We know that in selective mutism psychological and social factors play a crucial role. Can the context therefore contribute significantly to helping the child speak or keep him mute like a fish? And if so, can it be enough to create a playful climate, in which error is not punished but valued, to facilitate the adaptation of these children to new situations?
My answer is: "Yes". It is difficult, however, to predict how long is necessary. I've only encountered three cases so far, similar to Ping's, and the perception was that all three children wanted to "talk", you could read it in their eyes, on their lips that moved, without emitting sound, in pronouncing rhymes, nursery rhymes, word puns. I think it is important , actually, is absolutely necessary, not to force these children but offer vibrant, stimulating activities that intrigue them and invite them to participate. A month after meeting Ping, in another workshop I met a little girl, Frida, suffering from the same disorder. This time no one had warned me, so completely unaware of the situation I asked the children to introduce themselves by pronouncing carefully their name whilst making a gesture. When it was Frida's turn we could not hear her name, but the gesture was obvious: a clear "A" full of trust … That A made me think that perhaps with a few more workshops ….

By Monica Colli 
______________________________________________________________________
This story is part of Multinclude Inclusion Stories about how equity is implemented in different educational environments across the globe. This work is licensed under a Creative Commons Attribution-NonCommercial-NoDerivatives 4.0 International License.
The author is an Italian language teaching expert and author of illustrated books,  theatre texts and mini mystery books (on grammar) for children and young people. Ms Colli is the vice president of the Association ProXXIma. She manages the area of design, monitoring and evaluation and coordination of the teamwork. She has a real passion for didactic research and for a transformative training (aimed at trainers and educators) thanks to engaging, participatory and laboratory modalities such as theatre and creative writing. She is implementing  A Fabulous Journey through Grammar programme.